Rob Ross, 7th dan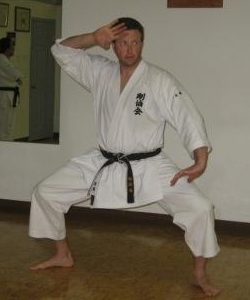 Rob Ross has been a student of Sensei Taka Kinjo for 25 years. He began training at the age of 13. Sensei Ross received his black belt in 1988. In 1990 he attended with Sensei Kinjo representing Canada at the Uchinan-Chu World Wide Festival in Naha, Okinawa. In 1993 Sensei Ross traveled with Mr. Ed Hryciuk back to Okinawa for Uchi Deshi training (live in student) at Hombu Dojo (Head School) in Okinawa. Sensei Ross and Mr. Hryciuk lived in Okinawa and trained exclusively in Karate for 6 months.

Sensei Ross established the Taber Karate School in March of 1994. Sensei Ross and his family moved to Kamloops, BC in 1997 and in December of that year established the Kamloops branch school. In August of 2001 Sensei Ross and his family moved to Vancouver, BC and in 2003 established the Vancouver branch school. Sensei Ross and his family moved to Seattle, Washington in July of 2007. In February of 2009 Sensei Ross resumed teaching and established the first US branch school of Gohaku-kai.

Sensei Ross is currently ranked with his 7th Dan. Through his karate career he has travelled to Okinawa for training four times and has visited China once. Sensei Ross travels numerous times every year back to Lethbridge for training at the Canada hombu dojo with Sensei Kinjo.

In November of 2009 Sensei Ross hosted the first Pacific Northwest Okinawan Karate Seminar in Vancouver, BC. Sensei Kinjo and other senior students from the hombu dojo travelled to Vancouver to assist. The seminar was attended by karate practioners from Seattle, Vancouver, Kelowna and Lethbridge. The seminar was a great success and will hopefully become an annual event.